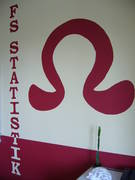 The 'Fachschaft Statistik', or the council of Statistics Students, consists of the students from all branches of the Faculty of Statistics, for example Statistics, Data Analysis, Data Management and Data Science. There is also a student council, the 'Fachschaftsrat' (FSR), which represents interests of the Students of the entire faculty to the student's union (AStA), to the lecturers, and the rest of the university.
The Council also organises events in and outside of the university, with fetes, trips, sports events, intro week. They also help students to prepare for oral exams, and are usually available to answer any questions or problems the students may have.
The FSR can normally be found in Room 712 (Sofazimmer) of the maths building.
The FSR forums can be found here.